Meadow is an experimental, online forum game made by the Might and Delight game studios that brought its audience other emotional game titles like Shelter, Shelter 2, and Paws. This small, but peaceful adventure title is focused on the atmosphere and ambiance of the environment rather than achieving an end goal.
Concept
The world of Meadow is based off the Shelter Series Might and Delight has made in previous years. I've played several of its games in the past and each one has offered an emotional backdrop through the use of music, the environment, and concentrating them into a powerful story by using a balance of each of these elements. Players who own copies of the other titles unlock in-game content like having the option to play as a lynx, a bear cub, and even an eagle to explore the world of Meadow.
Playing with Animal Friends
The default animal every player starts out with is the badger cub, but since I owned the past games I was able to explore Meadow as a lynx. During my explorations, I met other animals on my journey. While there is endless sprinting and jumping to make exploration easier, there are also parts of the world where climbing or swimming is necessary to reach another area.
Different animals offer advantages and disadvantages depending on the type of terrain the player has to navigate. I found with the lynx I was able to run faster than the badger cub but slower than the rabbit. Being a 'bigger' animal I also have a wider point of view and I could see farther in the distance due to my increased height. When I experimented with the frog, I found it could swim faster and jump higher than other animals, but it had a limited point of view due to its small size.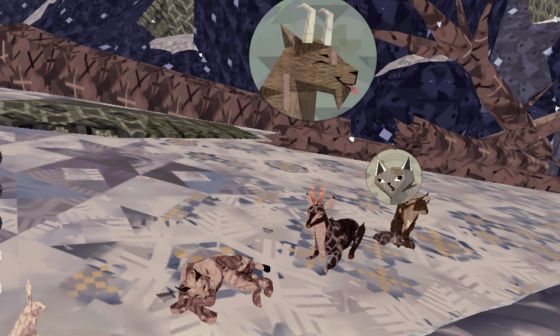 The atmosphere of the fable world is calm and meditative; there's no sense of needing to rush to travel every inch of the landscape. During my time navigating through the forest area, I was surprised by how alone it truly felt. I didn't feel the need to seek out other players but instead meandered around at my own pace until I bumped into a friendly group who invited me to join them. I gladly accepted and we embarked on a mini adventure that lasted well over an hour. We explored a honeycomb of caves, swam across a large river, and even dashed across a large meadow blooming with flowers.
Pursuing the Main Objective is Optional
Meadow does have an optional main objective players can pursue, but it's not necessary. There are sparkling plants and black monoliths that give 'essence.' Essence unlocks extra in-game content like skins, emotes, and even actions for the player's chosen animal to perform. Sparkling plants are scattered throughout the world and are easy to gather by solo players. The pack I joined up with would veer off from the main group to gather their own plants but came back after a few seconds. During one encounter we came across a large black rock, a monolith, and here I learned that these massive boulders released an abundance of essence compared to the plants.
The catch with the monoliths is players can't just run up and break them open to get this higher amount of essence. There are circles that light up on the face of the rock and when each one is glowing, it shatters. While I didn't spend more than an hour or two with my group, I did manage to unlock a new skin, a few emotes, and even a new animal. Compared to when I was dashing around the world enjoying my own company, I was only able to unlock three emotes in the same amount of time.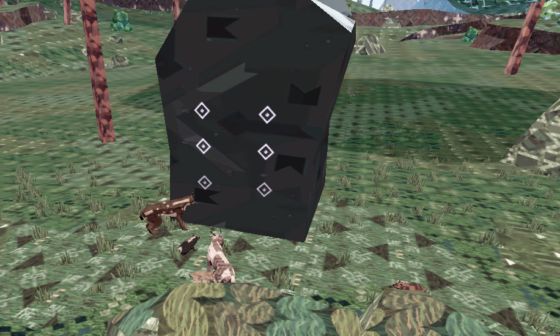 Even though I've never known any games from Might and Delight studios to need a super gaming PC in order to run, this newest title did have a few minor issues. There are noticeable FPS drops at random times that would mysteriously disappear after a few seconds. I'm not sure about the cause, but I assumed it occurred due to environments loading.
The mechanics in Meadow can be strange and downright wonky at times. I had difficulty with the turning radius while sprinting; my character would often refuse to turn completely or would end up headfirst in a wall. I often had to stop, turn, and then continue sprinting in the direction I was heading. I assumed this was only an issue I was experiencing in the beginning, but my animal friends were experiencing the same problem. There were a few times when we would be jumping along the side of the mountain when one, or more, of us would get stuck in mid-leap against the wall. Eventually, we'd drop down and continue our climb, but it was definitely frustrating in the moment.
One aspect I found interesting in Meadow is the absence of a chatbox. Instead, players are only given access to emotes and icons to communicate with each other. This creates an interesting way to 'talk' with other players because getting even a simple message across requires a little out of the box thinking. For example, while standing on top of a mountain that a rabbit and I had climbed, I had to use a series of icons to ask them if they wanted to jump down. After a minute, they understood and leapt off to confirm they understood my inquiry.
There's also another mechanic included to make it easier to find other players when playing online. This mechanic is activated by clicking an arrow in the bottom right hand corner of the screen. Once clicked, a map will pop up showing diamonds scattered in several directions. These diamonds are other players exploring the fable world in real time. I didn't use this feature more than a couple of times, but it was helpful when I wanted to find new animal friends to hang out with.
Origami Inspired Design
Meadow is interesting not only for its concept but also for the art design. Might and Delight seemed to have drawn heavy inspiration from Origami; the art of using paper to fold a variety of objects, shapes, toys, and even animals. The sharp lines and edges of each animal and even the environments they explore look as if they've just been folded and brought to life.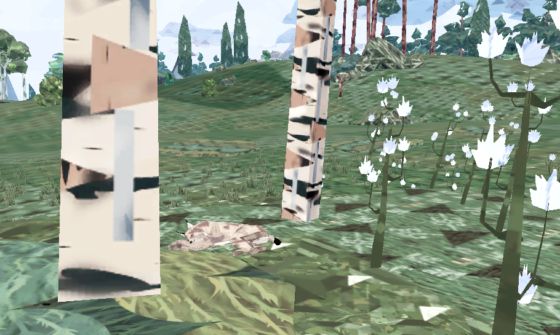 They did an amazing job on each environment too by filling each area with vibrant colors and designs. Each area has an engaging atmosphere with soft, ambient music playing in the background. Combined with the sheer vastness of the world, it's easy to get lost for hours on end wandering around just admiring the scenery.
The music is a work of art on its own too, with relaxing instrumentals that are soothing to the ear. Players can choose to loop the music, have it play occasionally, or choose to have it turned off completely. There's not a wide range of sounds from Meadow if players choose to mute the music, but when traveling in a pack it can be interesting. Badger cubs make small squeaks, frogs ribbit, and even the lynxes make an odd growl or grunting sound with the click of a button. There's nothing quite like sitting around while three or more badger cubs are all squeaking at once. The odd splash and hard lands from great heights do add their own relaxing element, but like the rest of the world it's relatively quiet.
Gameplay 7/10
While there's no overall storyline, there's plenty of exploration for people who enjoy it. The atmosphere is relaxing and the fable world is vast. There's plenty of caves and hidden areas to explore alone or with a few newfound friends.
Innovation 7/10
There's nothing outstanding in this department, but the elimination of the chat box does encourage creative thinking to communicate with other players. Meadow encourages players to seek each other out and presents them with an optional objective they can pursue together.
Community 8/10
There's no an option to troll and even if someone tried, their efforts would fall flat. The people I've met during my explorations were often helpful and usually led me to the nearest monolith we could unlock. The entire community is a fairly mellow bunch who are there to experience the atmosphere and ambiance of this make believe world.
Graphics/Sound 5/10
Unless there's a large pack of animals hanging around, it can be eerily quiet. I personally enjoyed it the majority of the time, but at times it felt almost too quiet. The addition of nature sounds in absence of the music like birds singing or frogs croaking in certain environments would be a nice add on to an already peaceful game. The music is pleasant too, but for people who choose to turn it off there's not much left to enjoy.
Value for Money 9/10
The game itself is $2.99 on Steam. The price of a bag of chips basically, so even people who buy the game and end up not liking it don't have to worry about making a huge investment. Might and Delight Studios has also promised to add more content in the future, so there's that to keep in mind.
Overall 7/10
Meadow is a charming game that has plenty to offer in terms of experience and even quiet contemplation. Friendships formed in the fable world feel special because there's no way to speak directly with the other people who are playing. The entire concept is focused around enjoying the moment and the experience with other people who happen to step into the fable world. While it's not packed with adventure, monsters, or quests, the quiet atmosphere, beautiful environments, and the chance to play a charming Origami inspired animal is well worth giving this title a try.
Pros:
+Inexpensive
+Beautiful landscapes and animal designs
+Relaxed and friendly community
Cons:
-Not a lot of content at this time
-Random FPS drops
-Turning radius for animals still needs work
Related:
meadow
,
Might and Delight
,
MMORPG
,
Review
,
Steam