Looks like there might be one less voxel sandbox to play in. A press release from developer Radiant Worlds has confirmed that SkySaga development is being halted as publisher Smilegate is putting the game on hold for an indeterminate amount of time.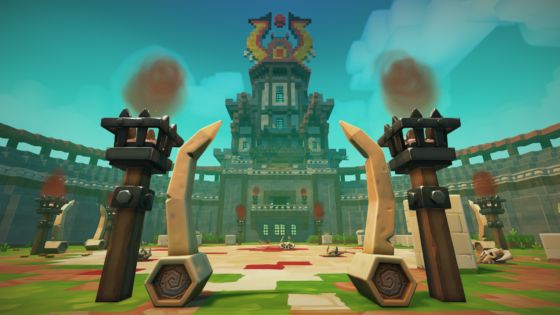 According to the announcement, SkySaga was the only game in Radiant Worlds' portfolio. As a result, the end of the developer's contract with Smilegate means that the company no longer has income, which could lead to firings across the board at the studio. The staff is expected to convene for a consultation to consider its next move.
With that said, Radiant Worlds chairman and COO Richard Smithies still maintains that the company is in a "strong financial position" with the ability to "meet all of our statutory and contractual obligations to all staff and external suppliers."
"This is a terribly sad outcome after a fantastic four years of working on this amazing game," said Chief Technology Officer Andrew Oliver. "We are incredibly proud of what the whole studio has created, and it's hugely disappointing to us that none of them will get to follow up on that work and see the game through to a full commercial release, as they all deserve."
Our Thoughts
Whatever may happen next to the folks at Radiant Worlds, we hope that it will be as painless as possible and that the team will find new work or new opportunities sooner rather than later. Perhaps we'll see SkySaga make its way to the crowdfunding scene? Either way, we'll be sure to keep you posted.
Source: press release
Articles Related to SkySaga
SkySaga Early Access Preview
The MMO Alpha and Beta List: August 18, 2017
Friday Livestreams Planned Through August for Trove's Eclipse Update
Related:
Development
,
Industry
,
News
,
Sandbox MMO
,
SkySaga